Wilden® Donates Saniflo™ FDA Series AODD Pump To Food Processing Laboratory At Fresno State University
From Wilden® at Grand Terrace, CA – February 26, 2020 ________________________________________________________________
Wilden®, part of PSG®, a Dover company and a worldwide leader in specialty pumps, is proud to announce that it has recently donated a 38 mm (1-1/2") Pro-Flo® SHIFT Saniflo™ FDA Series Air-Operated Double-Diaphragm (AODD) Pump with Pure-Fuse Diaphragms to the Food Processing Laboratory at Fresno State University, Fresno, CA. The donated pump, a PS4 model in Wilden nomenclature, will receive hands-on use from the upwards of 80 students who are currently enrolled in Fresno State's Department of Food Science and Nutrition. As part of their educational requirements, these students are tasked with producing a wide variety of food products, including jams, jellies, salsas and sauces – all in a processing environment that cannot compromise food quality or safety.
The Wilden PS4 pump will play a significant role as the conduit between the manufacturing system's cooking kettles and filling lines; without it, the students would have to jar their products by hand, a time-consuming and potentially unsanitary process. "We use the pump to produce the majority of our jarred products," explained Carmen Licon, Assistant Professor for Fresno State's Department of Food Science and Nutrition. "We expose the students to food manufacturing on a pilot-plant scale, which involves a lot of lab work. During this time, we teach them about food safety and good manufacturing practices. Last semester, our old diaphragm pump broke down, so we needed to find a new one because we didn't want to have to jar by hand, which is time consuming and unsafe for students."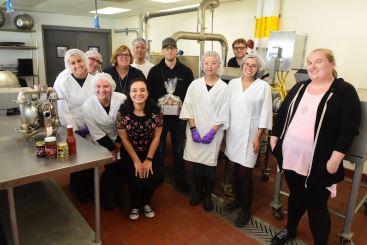 For recommendations on a possible solution, Licon turned to
Bret Bookhamer, a Sales Manager at Pumping Solutions, Inc., Ontario, CA
, who for several years has been a guest lecturer for the Department of Food Science and Nutrition and Viticulture and Enology at Fresno State, focusing his talks on the operation and uses of industrial pumps in food-manufacturing applications. Since 1995, Pump Solutions has built a reputation as a leading distributor of AODD pump technologies in California and the Southwest, with Wilden among the AODD pump brands that it represents. With all that in mind, Bookhamer recommended the Wilden PS4 pump to Licon and Fresno State – and then worked to have it donated to the program.
Click to download the full article from Wilden.